Balancing Purpose & Profit
Certified B Corporations are a better kind of business that balances purpose and profit. Each B Corp is certified by the nonprofit B Lab to meet rigorous standards of social and environmental performance, accountability, and transparency. Brands with the B-Corp designation are legally required to consider the impact of decisions on their workers, customers, suppliers, community, and the environment.
B Corp is to business what Fair Trade certification is to coffee. This is a community of forward-looking brands, driving a global movement of using business as a force for good. By choosing B-Corp designated products and brands over others, you cast your vote for a better way of doing business. You have the power to make your voice heard every day through the purchasing choices you make.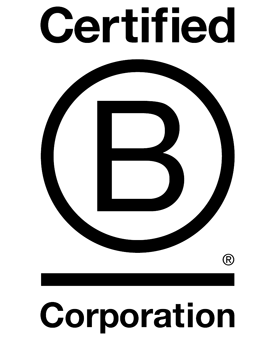 All

Body / Beauty

Body / Skin Care

Body / Suds

Body / Wellness

Gear / Health & Fitness

Gear / On the Go

Gear / Outdoor

Gear / That Gives

Home / Bath

Home / Bed & Decor

Home / Kitchen

Home / Office

Home / Yard & Patio

Style / Accessories

Style / Activewear

Style / Bags & Wallets

Style / Casual

Style / Outerwear

Style / Shoes & Socks

Style / Watches & Jewelry

Taste / Coffee & Tea

Taste / Hydrate

Taste / Snacks

Taste / Something Stronger

Tech / Apps

Tech / Audio & Gadgets

Tech / Lights

Tech / Phones & Cases

Travel / Essentials

Travel / Experiences

Travel / Packs & Luggage