Making change happen 1% at a time
One Percent for the Planet started with two businessmen bonding over their shared love for the outdoors. Understanding their responsibility to protect our planet, they decided to give 1% of their sales back to the environment through 1% of their sales—whether profitable or not.
Their truly heroic cause has now grown to include a growing network of brands, organizations and individuals that aren't willing to sit around and wait for things to get better. Instead they're taking action to make change happen. Since 2002, 1% for the Planet has helped direct hundreds of millions of dollars to various environmental nonprofits around the world, focused in six core areas: climate, food, land, pollution, water and wildlife.
Support their continued efforts to protect the planet by purchasing from products and brands within the 1% network.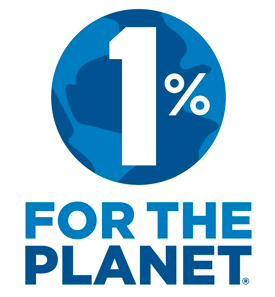 All

Body / Skin Care

Body / Suds

Body / Wellness

Gear / Health & Fitness

Gear / On the Go

Gear / Outdoor

Gear / That Gives

Home / Bath

Home / Bed & Decor

Home / Furniture

Home / Kitchen

Home / Yard & Patio

Style / Accessories

Style / Activewear

Style / Casual

Style / Outerwear

Style / Shoes & Socks

Style / Watches & Jewelry

Taste / Coffee & Tea

Taste / Hydrate

Taste / Snacks

Taste / Something Stronger

Tech / Audio & Gadgets

Tech / Phones & Cases

Travel / Essentials

Travel / Packs & Luggage