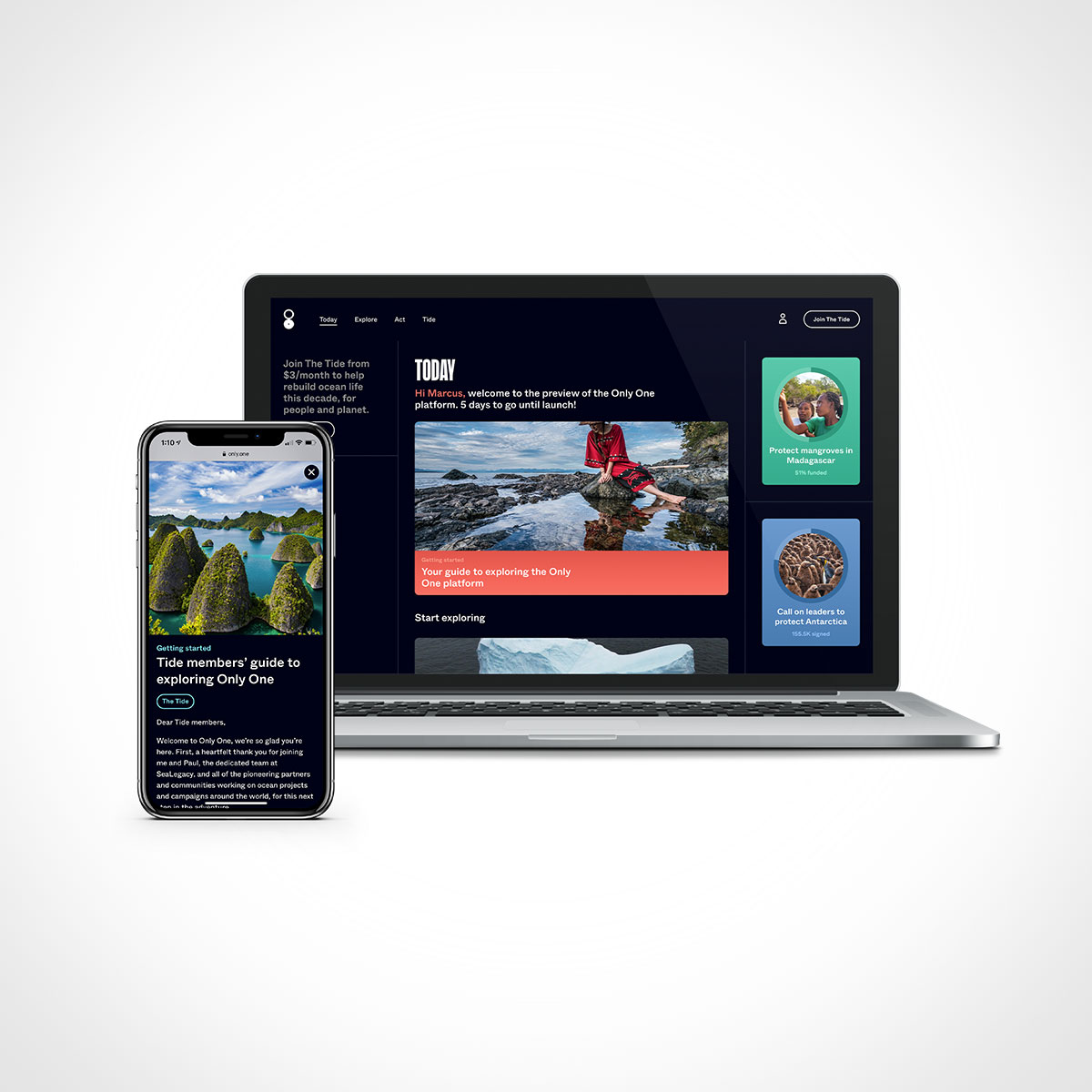 Your home for ocean stories and environmental solutions
The Only One Platform is a new home for ocean stories and environmental solutions from the heroic folks at SeaLegacy. The platform features people from all backgrounds and organizations of all types banding together to drive real change in the protection of precious ocean habitats. These efforts, as well as ongoing actions supported by SeaLegacy, will be available to follow along via the platform. You'll also be able to track progress of personal contributions, while meeting new people and exploring opportunities to drive meaningful change.
Climate change, the global pandemic, and environmental injustice are all interconnected, and must be addressed together. The ocean plays a critical role in that effort, from slowing the effects of global warming to providing sustainable food for the planet's growing population. The Only One platform supports such healing efforts with a renewed spirit of transparency and collaboration. Delivered through the amazing imagery and video that only SeaLegacy can offer. The official platform launch is next week, but as a Tide member you can dive in now with early access to…
Journeys
All of the stories and solutions on Only One are organized into epic, 10-year endeavors. Each of these is aligned to a critical global goal that will help rebuild ocean life, and more equitable communities, in the next decade.
Series
Within each of these global Journeys, you will be able to explore an ongoing stream of stories and solutions from many partners all over the world.
Actions
And, throughout all of the Journeys, you will have the opportunity to act alongside leaders and innovators, entrepreneurs and activists, scientists and storytellers, and more, to support active ocean projects and campaigns.
We independently select these products—if you buy from one of our links, we may earn a commission.